DC Twitter is an absolute mess in the aftermath of an explosive article from The Hollywood Reporter. The exclusive (which dropped Wednesday evening with no warning) shared the information of sources alleging baffling developments and behind-the-scenes drama currently occurring within DC Films.
This included supposed tension between the studio and "Black Adam" star Dwayne Johnson, the recasting of "Aquaman" star Jason Mamoa as Lobo, Henry Cavill's second retirement from Superman, and the rejection of Patty Jenkins' third "Wonder Woman" film. That last development is particularly odd, as leading woman Gal Gadot announced less than 24 hours prior that she was excited to share updates about the character's future.
For his part, DC Films co-CEO James Gunn used his own Twitter account to pour water on the rumors flying around. Without confirming or denying any specific allegation, he wrote "some of it is true, some of it is half-true, some of it is not true, & some of it we haven't decided yet whether it's true or not." Though the writer-director seems to be cautioning those jumping to any rash conclusions, that didn't stop an ever-vocal group online from sending out thousands of tweets with the hashtag #FireJamesGunn.
UPDATED (keep refreshing as this shocking story mushrooms): The open question now of whether James Gunn will follow through on plans he tweeted to come to San Diego Comic-Con today for the Sony Pictures panel, where he produced a horror film and was prepared to stump it in a surprise appearance: he's not. Insiders say he will not attend the session set for 6:15 at Hall H.
PREVIOUS: James Gunn has been removed as director of the Guardians Of The Galaxy series after a batch of old social media dispatches were unearthed that touched on areas like pedophilia and rape. In the latest shocking #metoo development in the entertainment industry, Gunn was severed from the Marvel Comics Universe after a slew of social media posts he wrote before getting Guardians of the Galaxy surfaced. According to Fox News, they were posted because Gunn is an outspoken critic of President
Mission accomplished. Gunn has long been a provocateur who has drawn ire in the past for his unusual humor. Among the tweets that forced Disney and Marvel's hand were: "I like when little boys touch me in my silly place."
Another: "The best thing about being raped is when you're done being raped and it's like 'whew this feels great, not being raped!'" There were others that made satirical comments about the 9/11 attack, AIDS and the Holocaust. Yet another described a monkey masturbating on a young child, and his commentary that it made him "extremely happy." These missives were not funny and entirely disturbing, given a preoccupation with fetishing underage boys. That left him a sitting duck for his retroactive social media commentary.
Disney responded quickly and decisively: "The offensive attitudes and statements discovered on James' Twitter feed are indefensible and inconsistent with our studio's values, and we have severed our business relationship with him," said Alan Horn, Walt Disney Studios chairman, in a statement just released.
Disney and Marvel had never announced that Gunn would direct the third installment of Guardians of the Galaxy, but Gunn certainly declared it on social media. And after Guardians of the Galaxy 2 last summer grossed $863 million worldwide, to the original's $773 million, there was every expectation he would remain at the helm. After all, the sly humor and tone that just crushed his career trajectory helped fuel the irreverently humorous tone of the Guardians franchise.
Friendship ended with Zack Snyder…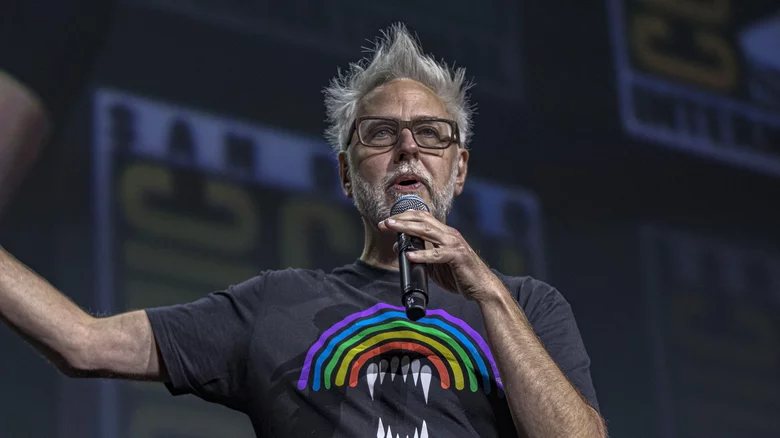 "'Gunn is a friend of Zack, he will do him justice' my a**," wrote @sameerj2003. We were unable to find any promises made by the "Guardians of the Galaxy" director that implied he would save a franchise nearly ten years in the water at this point. "This is BS!" exclaimed @TheNuGeekz. "THEY BETTER NOT REBOOT! ZASLAV, ABDY AND DE LUCA WANT THE SNYDER VERSE!" While The Hollywood Reporter did suggest that some Warner Bros. execs had considered one final outing for the 2016 "Justice League" cast, it doesn't appear to align with James Gunn's supposed vision for the future.
Several users, including @restoreZSJL, shared edited photos of old cast members holding up buttons that say "I Believe In Zack Snyder" — ironically borrowing the iconography of a more successful and entirely unrelated DC franchise. Many users were heartbroken over the loss of former franchise leads Ben Affleck, Henry Cavill, and Gal Gadot, the latter two of whom may have prematurely whipped their fans up into a frenzy over sequels that may never be. "DC needs it's Trinity [sic]. Always," urged @SnyderQueen_, tweeting the hashtag directly at the Warner Bros. Twitter account.
Multiple tweets shared the same photo of Gunn with disgraced "Avengers" and "Justice League" director Joss Whedon, seemingly a bizarre attempt at proving some sort of moral connection between the two. @JustAnotherLiv2, for instance, captioned the picture with a rather dramatic quote from J.R.R. Tolkien: "Evil cannot create anything new, they can only corrupt and ruin what good forces have invented or made."
Gunn's Twitter feed was down for a bit, but it's back up and it's easy to see he is unsparing in his language. For instance: asked why he was taking part in a reading with a convicted pedophile, he answered: "Yeah, that was the point of the tweets, dummy. I left. I showed up to the reading and there was a convicted pedophile there – Victor Salva, the director of Jeepers Creepers, and I was fucking horrified." Salva had served time for molesting a cast member on an early film of his. That was revealed in the run up to the release of Jeepers Creepers, which ironically was released by Disney.
We found these tweets below in a report by Fox News, and perhaps it is not a coincidence that it came from that outlet. Fox News got its ammo from The Daily Caller, One America News Network correspondent Jack Posobiec and right wing commentator Mike Cernovich, and apparently these conservative outlets pounced on old social media after Gunn mocked conservative pundit Ben Shapiro, as he defended liberal actor Mark Duplass after he came under fire and apologized for encouraging his followers to give Shapiro a chance, in the name of hearing views from the other side of the aisle. That is nothing compared to some of the tweets unearthed by Cernovich, which included suggestions that readers email Disney, to complete the takedown.
Here is Gunn defending the prior tweets, which were aggregated by Fox News before his Twitter feed was taken down.